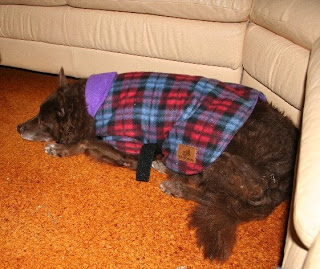 Warning: Emo poetry below. Avert your eyes should you care.
Dear little one
With coat of brown
Like chocolate
(which you loved)
Dear friend of mine
Who once ran like the wind
And bounded deer-like
Through the long grass
Most cherished heart
Who would sit at the
Foot of the bed
Just to be near me
Little loved one
With amber eyes
That always understood
Full of love
Silken eared pet
Who listened for us
Always greeted us
Like prodigal sons
Wet brown nose
That always knew
When to sniff your hand
To warm the heart
Little Bambi
With manners fine
A coat of wool
And temperament sweet
Little canine sister
Who I loved dear
May your rest be sweet
And there be no more pain
May you have known
How loved you were
And that we will never
Let your memory fade
I hope one day
We meet once more
And I can hold you
With love again
Rest in peace Bambi darling, 20/6/2009, 15 years of age (105 dog years).
You are my sunshine, my only sunshine, you make me happy when skies are grey, you'll never now dear, how much I loved you, please don't take my sunshine away.