I have been listening to the Hack broadcast on Triple J in this man week forum, and it has been quite thought provoking. Part of today's discussion revolved around men who hadn't known their fathers. It is a very relevant and distressing topic.
But what about the boys who never knew their mothers? Mothers generally help us to become tender, loving people. They guide us without words, offering their ears and their arms to relieve us of our troubles. They know when we're happy or distraught or doing wrong. How do these motherless boys develop? Do they grow up without that rudder, that guide on how to love unconditionally?
This topic is particularly close to my heart. For those of you that don't know me personally, my father lost his mother tragically at a young age. He was lucky, he came from a large family, with older siblings, and he was 15. My father is an exceptionally gentle, kind, caring and generous man. I know no tenderer man. I think this was always his nature, but I wonder how much of his family orientation was caused by the passing of his mother. I also know the loss still plagues him, as it does his brother and sisters.
Also, in my family, I believe my brother is closest to my mother. She is the only one he will open up to, discuss his troubles with. And believe me, this is important. My brother was a bit of a troubled child – tantrums, hyperactivity, a bit of misbehaviour and a whole lot of not understanding the dangers of the world. He doesn't say alot (in fact, those friends of mine who know him, would verify he says very little). I attribute the work of both my parents in moulding him so he could become the quite lovely young man he is becoming today.
I know it doesn't always happen, but I hope for all those boys without their mothers that they have role models who will help care for them, console them and guide them to their path. Maybe we should all think about our community impact and start volunteering for little brothers or sisters.. A worthwhile cause, and you help someone who might otherwise not get a good start in life. Please take a look at the Big Brothers Big Sisters website if you might be interested.
In the meantime, I might appreciate the men in my life this week, from my friends to my brother, my grandfather to the first man who stole my heart and will hold a piece of it always – my father.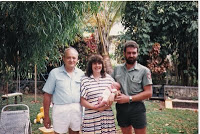 Thanks Dad, for showing me what the meaning of "a good man" is,
and the sort of love I am capable and deserving of.
Love you always.