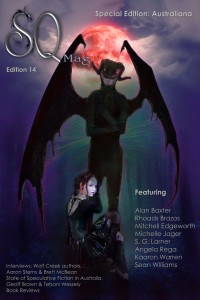 It's been a pretty exciting month or so for me in my role as the Editor in Chief at SQ Mag.
SQ Mag has been a labour of love for me and its original conceptualiser, Gerry Huntman, Chief of IFWG Publishing Australia. We started it as a six monthly hard copy edition in 2010 and brought it online 2012.
We run it for the love of new fiction and the thrill of being able to say yes to great fiction. (I should add that saying no sucks, and if you ever receive one from me, know that I send the email with some sadness.)
So it has been great to receive some recognition for the work and what we've been striving towards, which is an ezine full of diverse voices and stories from all over the globe.
Firstly, a story I loved the minute it crossed my computer screen, Treading the Brittle Shell by Rhoads Brazos, from our special edition in 2014 was picked up for Ellen Datlow's Year's Best Horror Volume 7. For those who know me and are not of the speculative fiction world, Ellen Datlow's a bit of a big deal (understatement, understatement). She's a giant, particularly in the editorial worlds of fantasy and horror. That she liked worked that immediately spoke to me is a great boost for my editorial ego.
Secondly, nominations were released for the Australian Shadows Awards, Australia's premier horror fiction award from the Australian Horror Writer's Association. We were nominated in the edited works category for out Australiana Special Edition, along side stiff competition from Cohesion Press' SNAFU collection, edited by G.N. Braun and A.J. Spedding, and Suspended in Dusk, edited by Simon Dewar. I've seen some great reviews for both these collections and I wasn't sure we had a chance.
In those same nominations, a creepy horror story by the name of Bones from Michelle Jager was also nominated (from the same edition). Another great story–there was several that edition–that we published. It was exciting times.
Our Australiana edition was a hat tip to our strong and thriving speculative fiction coming out of Australia and our origin. We were so proud of every little bit, and it has been so great to see that people responded to it as well.
The hat trick of the month was to end up winning the category of Best Edited Work. Being in Canada, I woke to the numerous messages of congratulations and wishes from friends and the speculative fiction community. I am endlessly discovering what a close-knit and supportive community the Aussie spec-fic group is, and I am privileged to be a part of it.
I'm also incredibly grateful to be recognised by the consummate professionals at the Australian Horror Writers Association, and to the readers, who thought enough of the ezine to nominate and vote for us.
I love the accolades but they need to be shared with these wonderful people:
Gerry Huntman, a great boss and partner in this venture first and foremost, without whom the ezine would not run
The talented fiction contributors, especially those from the edition: Angela Rega, Alan Baxter, Mitchell Edgeworth, Kaaron Warren, Rhoads Brazos, Sean Williams, Stacey Larner and Michelle Jager
Tehani Wessely and G.N. Braun who contributed thoughtful outlooks on the current state of Australian speculative fiction
Jeffery Doherty, author and illustrator extroadinaire who designed the striking cover
Our faithful and talented reviewers, Mysti Parker and Damien Smith
In a little side note, while they may not have contributed to this edition, my SQ submissions readers changed my life, so thanks for 2014 sanity goes to: Paula Boer, Gareth Edwards, and Louise Zedda-Sampson.