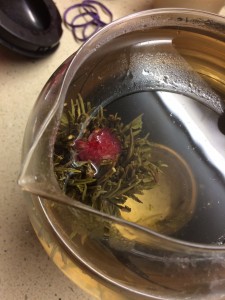 Tea is one of my favoured past-times. It's bracing and calming, and hell, some cups may even be good for us (a good summary of studies from the University of Maryland). My dad would bring me gifts of delicious varieties when he came to visit the impoverished little student, back in my undergrad days. When we moved to Canada, I had an exorbitant collection I had to disperse.
I'm not a huge green tea drinker, except for the blends you get at Chinese restaurants which I can never seem to find, but my to-be mother-in-law–the master of tea appreciation and collection–introduced me to this delightful experience. She also introduced me to Tea Leaves, a shop on the main street of Sassafrass in Victoria that Greg and I always stop at. I could spend hours between the tight shelving smelling the many varieties of green and black teas, gazing longingly at gorgeous tea pots and Japanese tea sets.
On the left is a teapot containing a Pink Chrysanthemum China Ball tea from this delightful shop. The pleasure of this tea is when you put it in a clear pot, as shown. It starts as a dry, tightly wrapped little ball. As it absorbs the water, the bubbles ease from the leaves, unfurling the flower by gentle degrees. The flower is buoyed to the surface for a moment, before sinking again to the bottom.
Watching these moments of change, of becoming, block out everything. For a minute or two, there were four people in the kitchen, watching tea steep. A collective sigh as the flower sunk in the last strains of its finale.
I wish that I did that more; shut out the world so there's only you and the art, the experience. It reminded me, yet again, that I need to go back to my writing work in an environment where its me and the story. My breath and a world unfolding.
So tonight, I leave you with the last moments of the china tea ball's becoming, and a thought for more mindfulness in your day to day. May you find where and when you need it most.