It's been an age since I blogged regularly, and I have half a dozen reviews I should have done, so I will write short reviews and post them up in other places later this week.
Angela Slatter, Verity Fassbinder trilogy, Vigil & Corpselight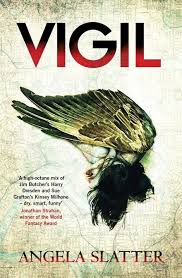 A little late to the Verity party, I whittled down by TBR pile to finally pick these up. Verity Fassbinder is a detective for the weyrd (read magical and fantastic creatures of fable and yore) of Brisbane, who you meet in Vigil, at the murders of sirens. Verity haunts familiar parts of the city – which I treasure seeing lovingly sketched in fiction – to hunt down the culprit. In Corpselight, she hunts angels and a missing baby, all while pregnant herself. Verity faces literal hell to get answers.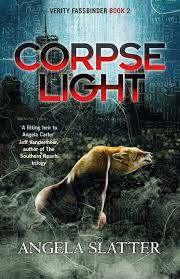 Verity is a snarky bad ass, tromping all over. She's an entertaining headspace to inhabit and I like the transposition of old-world creatures in current-day Australia. These works are quite different to Angela's Bitterwood Bible and others, which I think are still my favourites, but these books don't stop long enough to let you linger. The last in the trilogy, Restoration, is out now, so if you love seeing Australia in your fiction and a good detective story completed, this trilogy is for you. It's definitely skipping to the top of my list.
Cat Sparks, Lotus Blue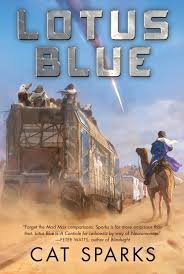 Talk about desert settings and we immediately leap to thoughts of Frank Herbert's Dune, but Cat turns that trope around to comment on environmental destruction, climate change, survival and war.
We follow Star and her sister on caravans winding through deserts, brimming with fatal storms, man-eating lizards and relics of an ancient war. While buried and mostly forgotten, the technical monstrosities built by ancient civilisations wait only to be reactivated.
I loved the worlds of this book: the land ships, lizards, sentinels. Still with clueless kids landing themselves and possibly the whole world in trouble. Lotus Blue is one of my favourite reads of this year.
Nnedi Okorafor, Binti: The Night Masquerade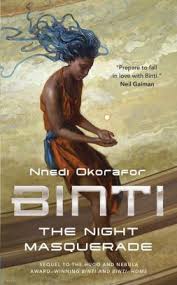 In the last of a trilogy of novellas, Binti has returned home from intergalactic university with her friend, Okwu. Inalterably changed, she faces rejection from her own conservative society for the changes she's undergone. Her father's people, Enyi Zinariya, have called on her to keep changing and broadening her understanding. And there's a war brewing between her planet and Okwu's people, the Meduse. She's far from home when the hostilities start and it may take all her skills as a harmonizer to put it right.
A fine conclusion for this trilogy which I have reviewed before (Binti). A journey of coming to accept yourself and others for who they are. I'd highly recommend embarking on the whole set.
The Everlasting Sunday, Robert Lukins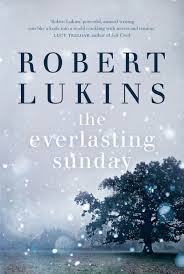 The Everlasting Sunday magnificently captures the atmosphere of a post-WWII English home for wayward boys. There's rambling adventures, clandestine meetings with jazz and alcohol, cemented together with a flawed yet interesting cast, and rounded out with the sort of friendships made only during the tough times.
Once he hits full stride in the novel, Robert's work is an evocative exploration of the setting and characters. His voice in the novel retains the very best type of story-telling from classic English literature, in keeping with the period. We keep our protagonist at arm's length throughout the narrative and the ending leaves the reader with many questions still unanswered. Events of the climax felt at odds with the rest of the narrative in its brutality.
Overall though, a highly engaging and well executed debut – congratulations Robert! (I know Robert through work so it's a special thrill to read his work.)