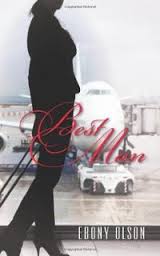 Before I begin this review, I must say that I know the author, and I read the beginnings of this novel when Ebony was posting it online at her blog, where she eventually took those parts of it down before she published. I purchased the book because I had to know how it ended.
Jess returns home for her sister's wedding, the first time since leaving in the wake of personal disaster. She meets the delectable and mysterious Ethan, who she discovers is her new brother-in-law's best man. While Jess wonders if she is ready to come home to her family and friends, her past comes back to the fore, and another devastating secret will come out.
Best Man is a commentary on the dysfunction and difficulty of familial and romantic relationships, and how these two can sometimes be worked around to make fulfilling connections for people. Particularly displayed in the relationship of protagonist Jess with Ethan, and also with her mother, who she struggles to have good relations with.
The interplay between Jess and her flirtatious fling Ethan is the best part of this book. Two broken people dancing around each other, each attempting not to get hurt or get involved, rung true as a tribute to the baggage people carry into their love lives in the modern world. I also liked how Ethan is woven in as a part of Jess' world, before she even know about it.
My major criticism is to the brevity of the discussion of familial violence and how it is treated as a subject. So as not to spoil some of the events of the book, this comment will be kept obscure. One of the characters has a history of violence towards another, and every one ignores it and expects the victim to play nice, knowing the extent of previous violence. To me, there was no feeling of it throughout the book in the victim's reactions to their abuser in any way, or in the way other members of the family reacted, and it felt like an unneeded plot point. I know that the author does not take this subject lightly at all; to me, it's just not been woven into the overarching narrative well. In my opinion, selfishness and self-involvement could have inflicted the hurts the victim suffered, and still reflected badly enough on the other character.
One other criticism is less major and more a reflection on the copy editor who read this novel, who left in homophones and several other small mistakes that do not reflect well on their professionalism.
Best Man can certainly be classified as romantic, but I would say that's only one part of the story. There's some steamy scenes between Jess and Ethan that should titillate most readers of the genre. I would definitely recommend it only for adult readers, given the subject matter.
For a self-published first novel, I think Ebony Olson has done extremely well. The narrative kept all the best character development and interaction that engaged the readers in the initial release of this story. I commend Ebony on her first book, and look forward to seeing her writing going from strength to strength as she hones her craft. I look forward to the release of her next book, which she has told me privately she hopes to publish towards the end of 2014.