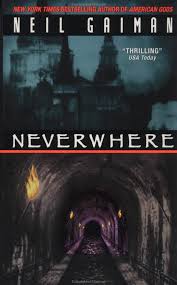 Those of you who have seen my reviews before, it's no surprise to see I am reading another Neil Gaiman book. After my friend, Thor Gunnin, introduced me to American Gods, I have been an ardent fan of Mr Gaiman. So Neverwhere, one of his other lauded novels, the one the fans beg for a sequel of, had to be on my 'To-read' list.
Richard Mayhew has his life together; he's got a good job, he has his own flat, he lives in London and has a beautiful fiancée, Jessica. But it all changes when he stops to help a girl in the gutter, the seemingly injured Door. After his world connects with London Below, the London that has fallen through the cracks, he loses his connection to the life he knows and love. And his only solution is to seek out the mysterious Door, who is facing her own tribulations and being pursued by two unsavoury characters.
But the world below is much more dangerous than it seems, a place of magic and full of creatures of lore. Richard must adapt to survive and join Door's adventurers to learn, about life and about himself.
Bluntly, I think that American Gods is still my favourite, closely seconded by the raw emotions of The Ocean at the End of the Lane (which I reviewed for SQ Mag). But Neverwhere is still an engaging novel that stands up to Neil's usual high standards. The tidbits of about the London Underground, and historical weather patterns, and fashions of yesteryear, are fascinating and so much a part of his fastidious style, displaying his extensive research. Managing to paint despicable antagonists that make your skin crawl, particularly Vandemar and Croup, and the depiction of the emotionally detached Angel, are the workings of a genius at characterising human (and by extension, supernatural) life forms. Even when I didn't much like the early actions whinging protagonist Richard, Gaiman still managed to make him sympathetic. It is a strength that there are so many flawed and somewhat unsympathetic characters in this novel, and it is still mostly enjoyable reading; a reflection I believe on the difficulties of life 'below', and the selfish side that is a requirement for survival.
I do think that Gaiman's work has evolved, and that his structure is a lot cleaner, tighter, in places than it was for this novel. And I can see why it has a huge fan base; the story of being unnoticed, of falling through the cracks to be forgotten, is one that so many of us can relate to. And as always, he a master of weaving lore into present day life in a way that doesn't turn the reader away.
So I would definitely recommend Neverwhere to others, particularly those weathering a time in their lives where they might feel isolated, but it would be in a raft of reading of his books, to get a flavour for all the styles of his fiction. It's infinitely suitable for preteens and up, and best suited to this audience.