Cape Breton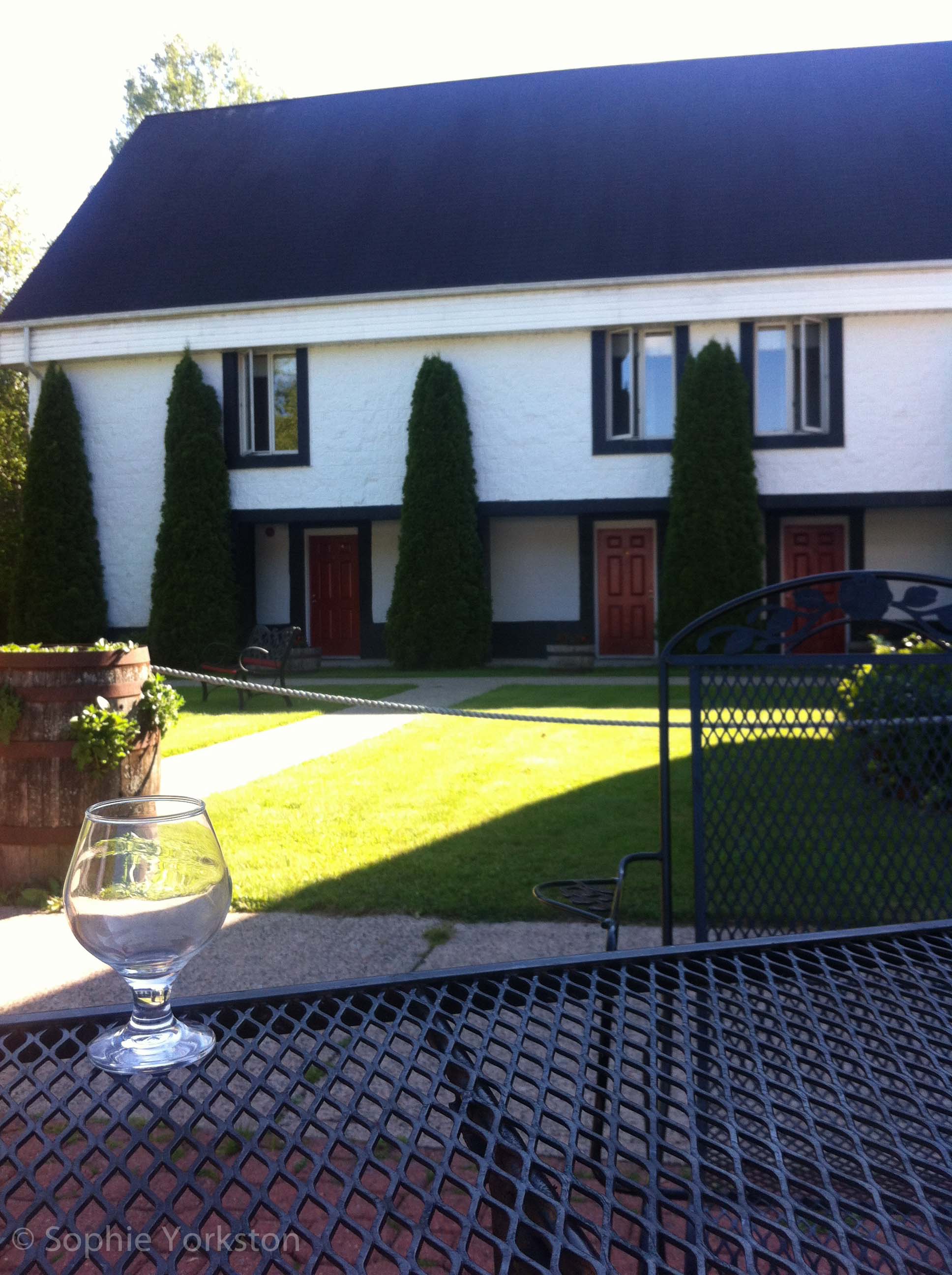 From PEI, we went on to Cape Breton. We stayed first with some cattle farmers in Antigonish, which is just off the island the cape is on. Antigonish is largely farming communities with thick forests. My partner Greg and I actually had a chill out day; we were a bit worn out by all the travelling. We went to a Scotch Whiskey distillery, a rather beautiful location with manicured lawns and whitewashed walls.
Cape Breton and the areas surrounding it acknowledge their heritage. The Scots history is heavily embraced, and many houses bear the Acadian star. For those not too familiar with Canadian/North American history, the Acadians were the early white settler,s mostly from France, many of who made a life with the Metis people as well. In the colonial wars between the UK and the French in that region of the world, these people found themselves in the middle. Many were shipped out, and are linked to the Cajun history of northern America.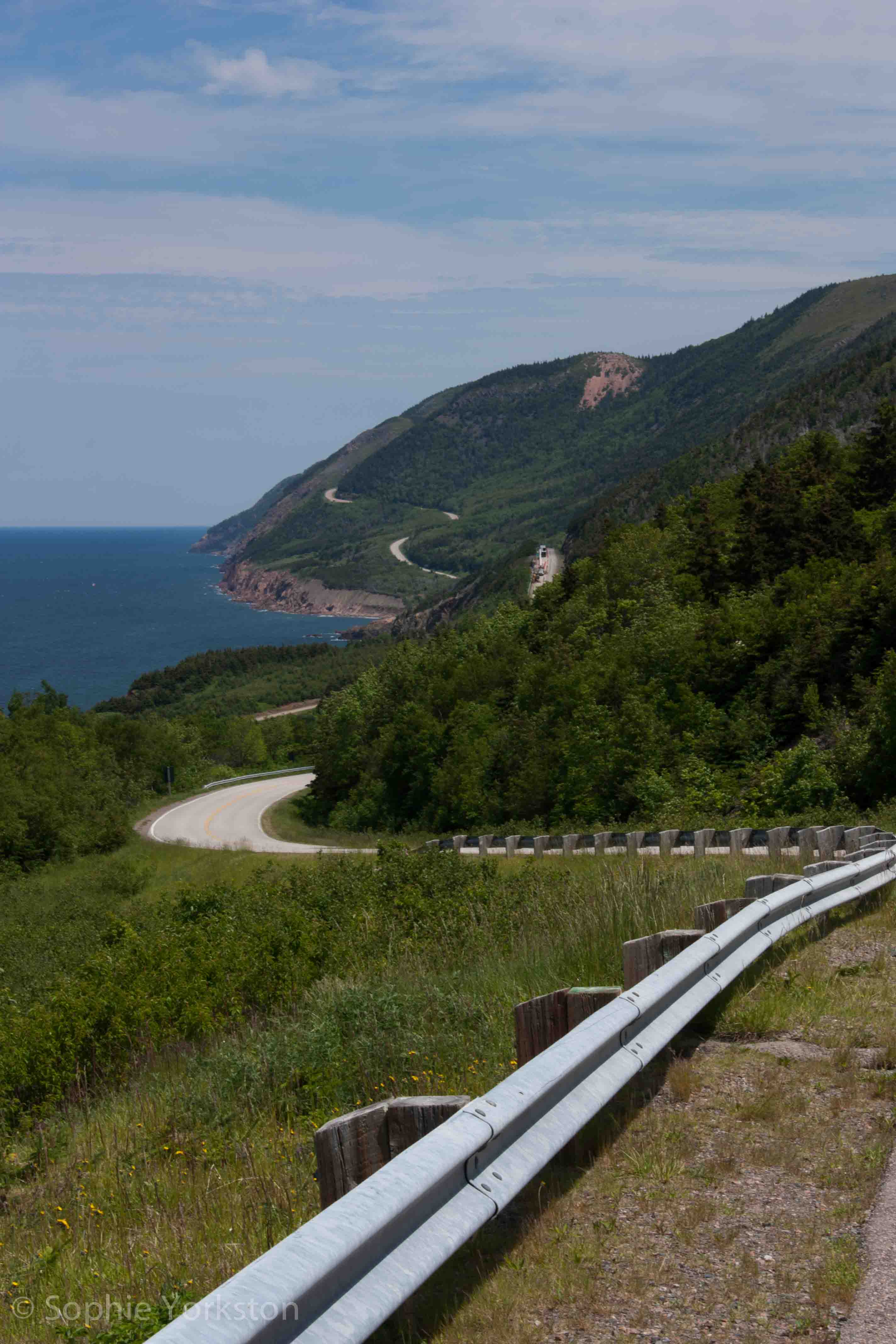 The Cape Breton National Park covers a huge area, and incredibly varied in environments. There was red sand cliffs, savannah, forest, beaches and mountains made of shale that seemed loosely piled in a mountain shape. We saw more than a few trees that had fallen over, seeming having only wrapped their roots around one large flat rock. The Cabot Trail, the main encircling roadway, rewards travellers with many breathtaking scenes. But hold on to your hats; those steep hillsides were created by fierce winds and water.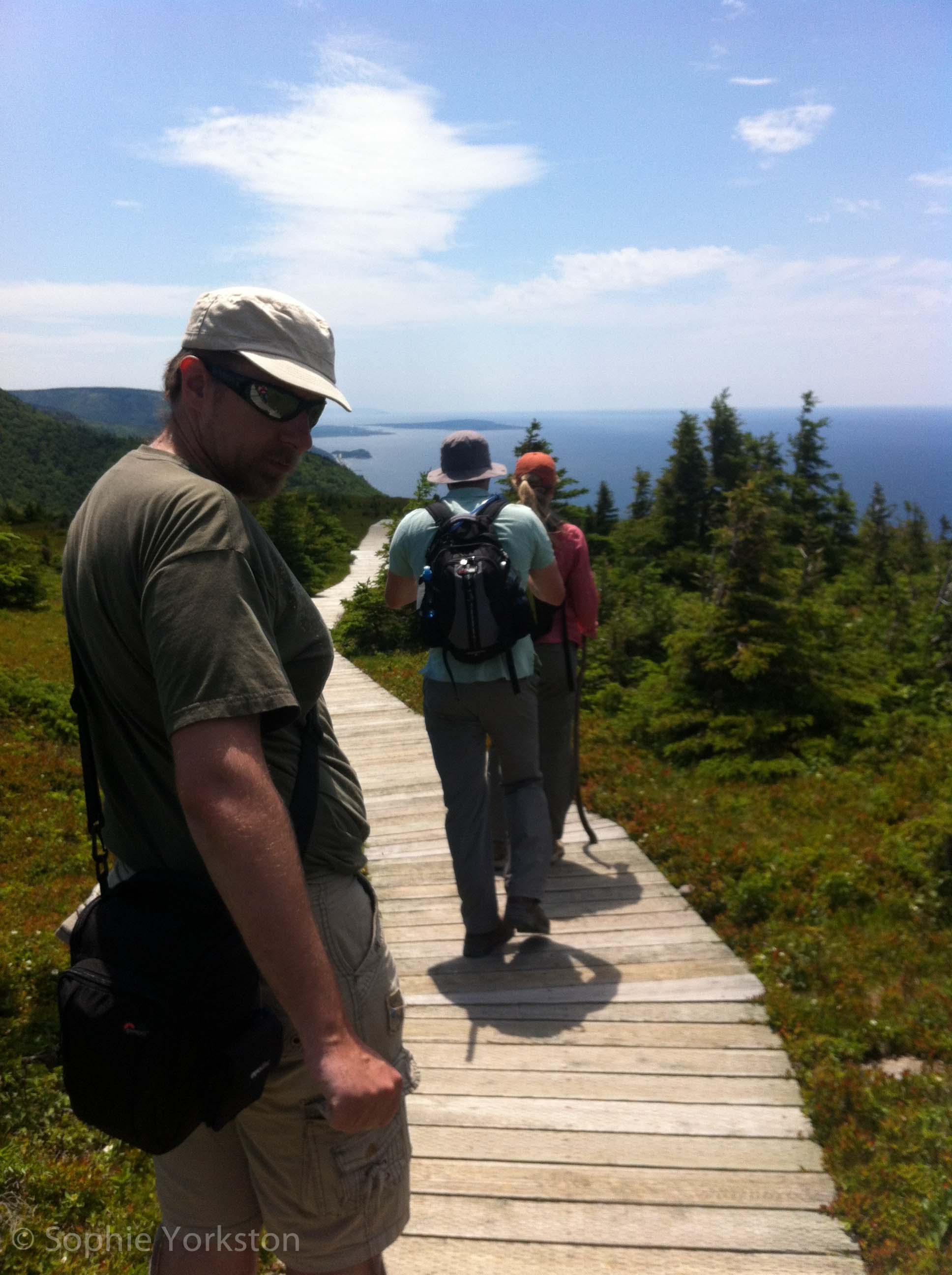 It was on this portion of the trip that we saw our first moose, nibbling amongst the evergreens. Easily tall as horses, these extremely quiet animals were quite happy munching away as we watched them. I guess they see a lot of people in that part of the world. Everywhere we went we carried sticks; the risk of coyote attacks low, but the risk not worth taking.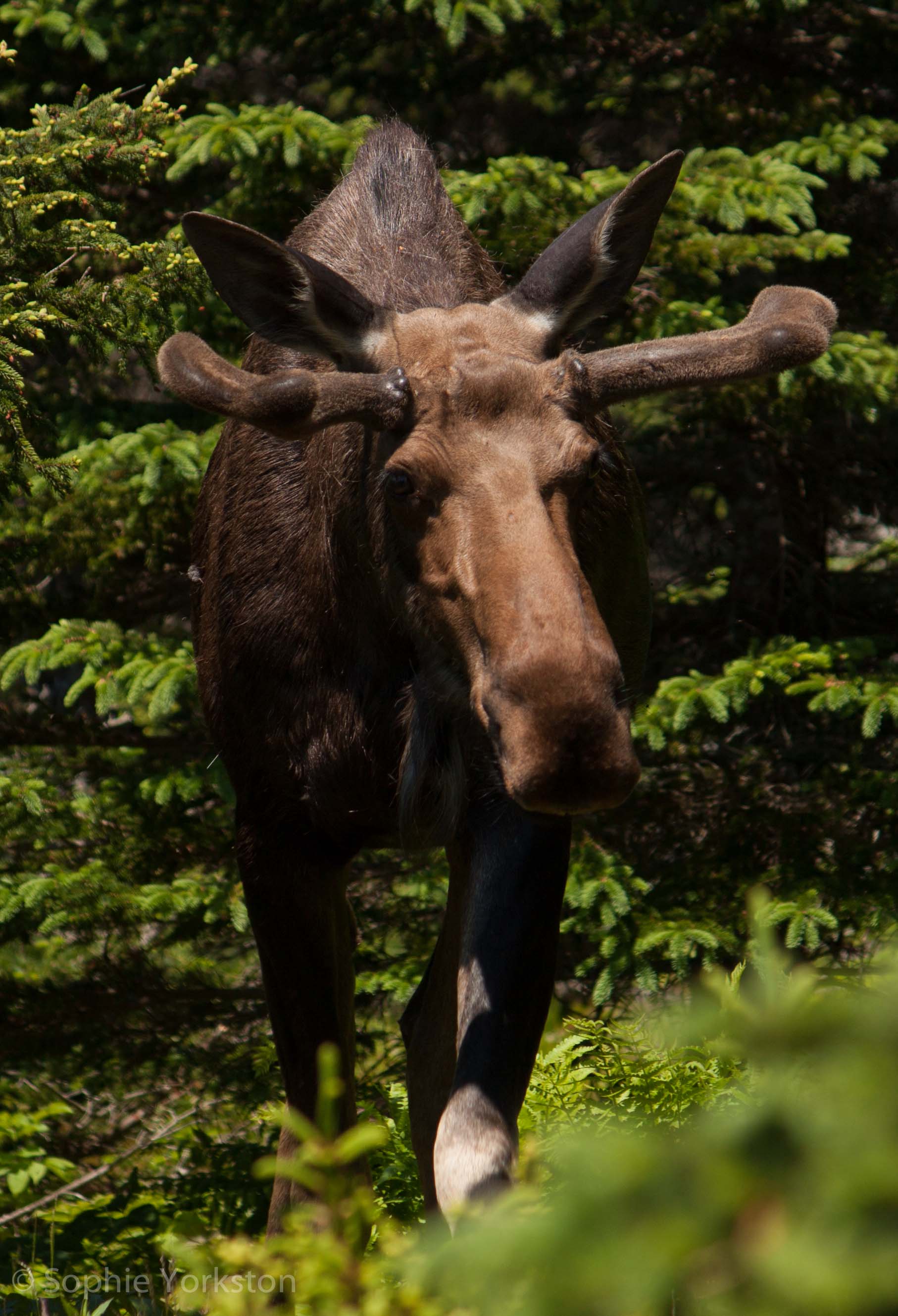 We walked in maple forests and amongst ruins from early Scots settlers; we climbed up on sheer and windy mountain tops and in swamps. We did not camp, but I am sure that if we had, there would have been some lovely places. Instead we stayed in a lovely homely cottage on the tip of the island at Bay St. Lawrence in a small fishing village, St Margaret Village. The lovely fresh salt air and glorious sunsets just took our breath away. Hummingbirds flitted around a feeder and a friendly little dog came to play. We had wonderful hosts who gave us hints about what to do, where to go. We had our first fresh lobster, cooked at home. I have to admit, having done it, I wouldn't again. I don't know if I could deal emotionally with it again, and it was a lot of effort for a little reward.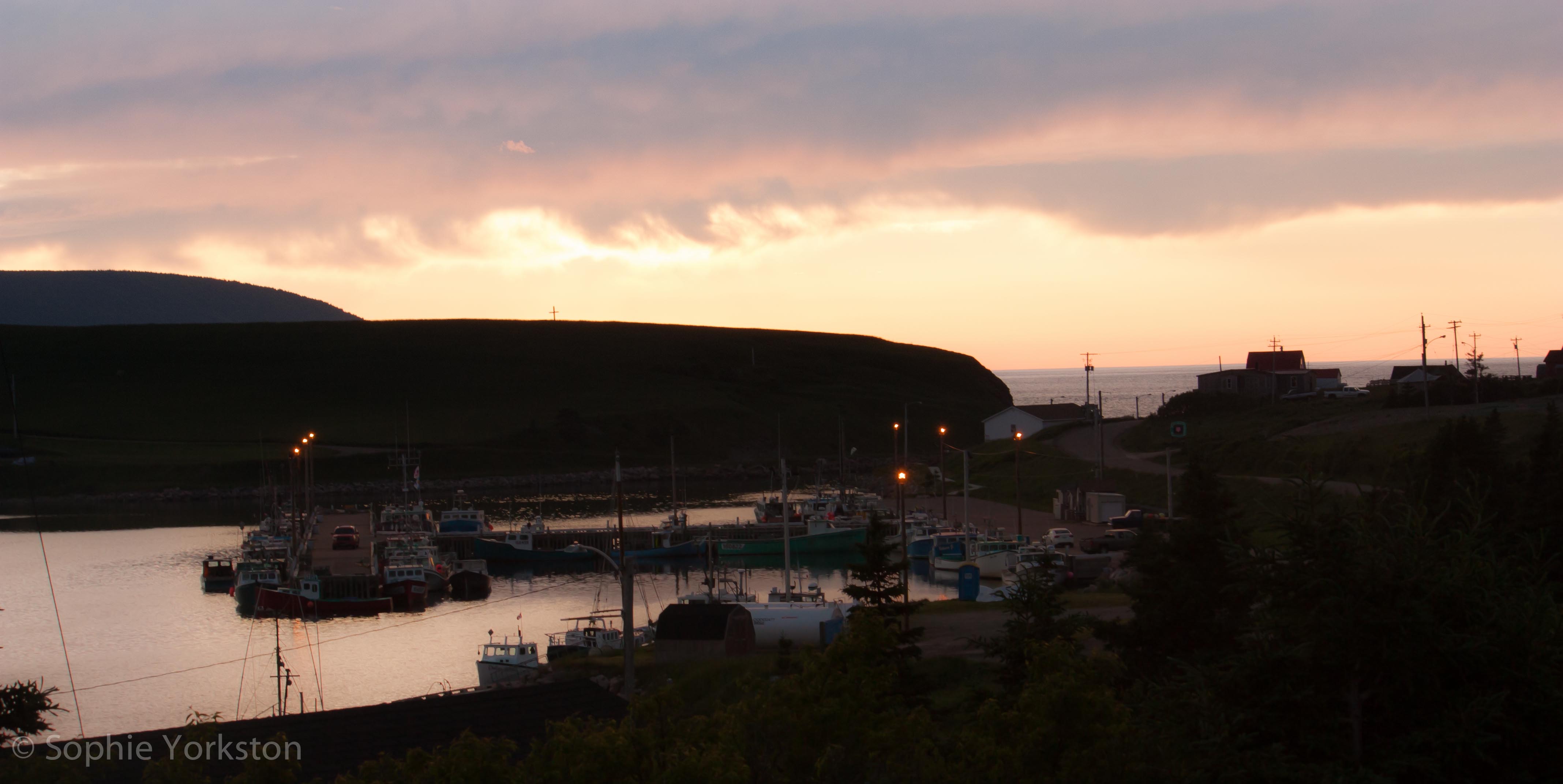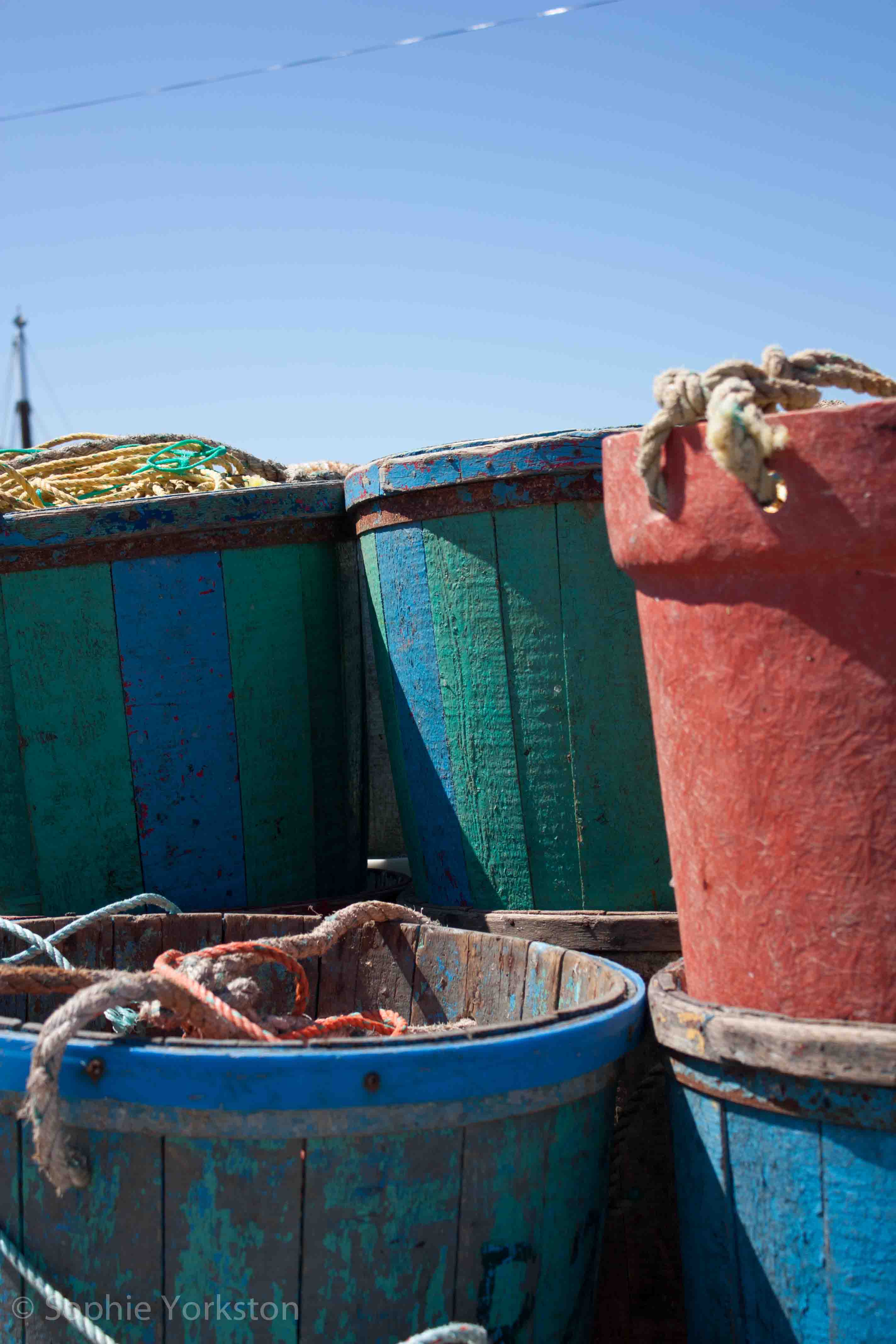 Around Cape Breton, the water is deep, dark and blue. It's dotted with the hundreds and thousands of lobster pots, pretty flotsam in the waves. Interesting discussions were had with our host about the state of lobster and crab fishing in the area, a large industry with strict regulation, yielded that the buying price of lobster was almost not worth the fishing effort because of a glut in the industry. It was hard to listen openly to, particularly when the talk of trawling came up (very minimal in that area); I am in favour of regulation and protection of our oceans and its life. Especially when you compare the monster lobster carapaces on the wall in the cottage with the average size of catch (about a third of the size). Interesting fact: lobsters are extremely long lived and they are unsure of their exact longevity in the wild. In contrast, my aesthetic appreciation was brought out by the brightly coloured boats bobbing in the harbour and the elegantly coiled ropes and painted crab pots of a working dock.
Our hosts directed us to a céilidh in Chéticamp, an event with Gaelic folk music. Our performer was considered one of the pre-eminent people in the Gaelic music field. It was a great way to spend an afternoon.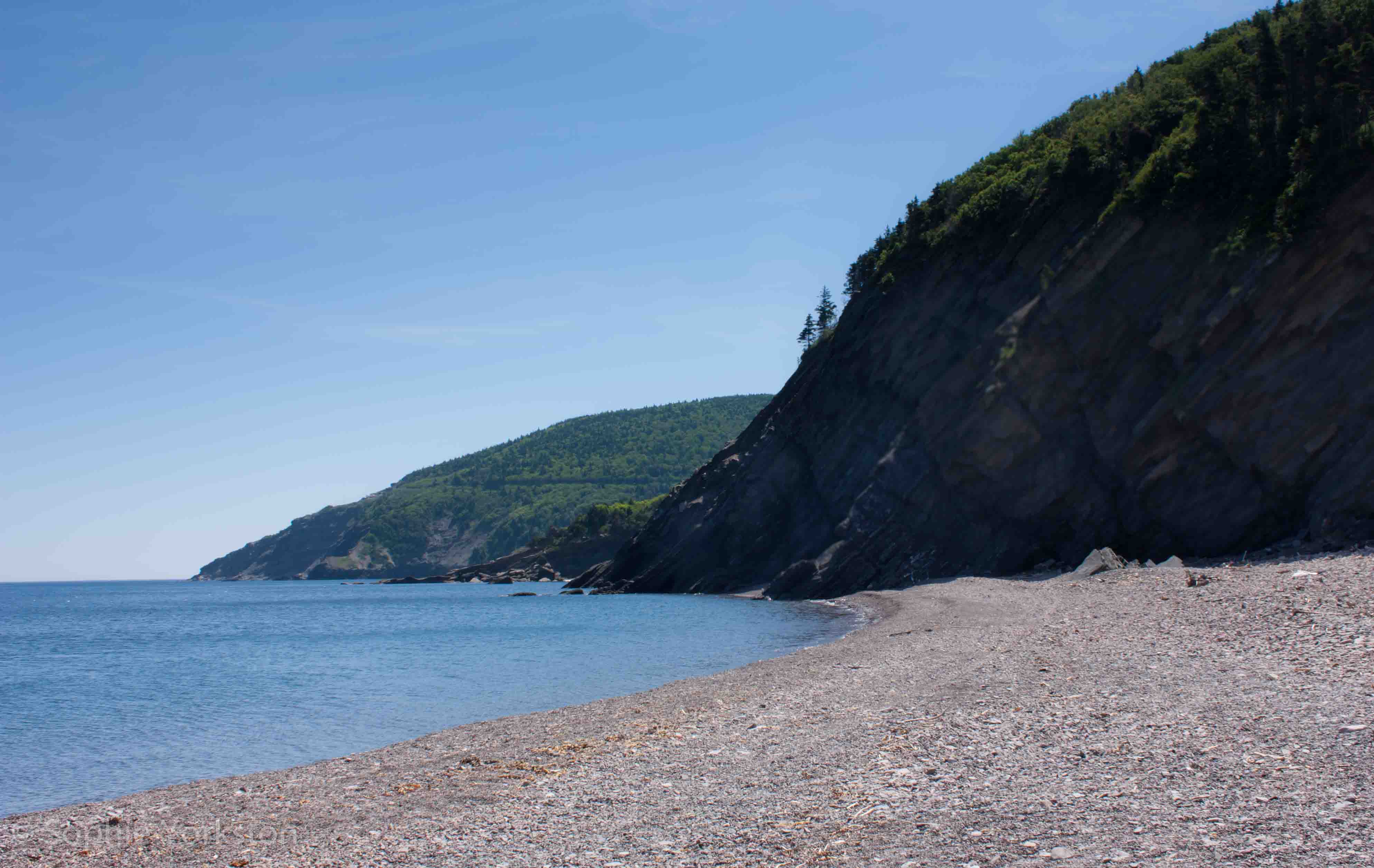 On our way out of Bay St. Lawrence, we stopped at a tiny little place called Meat Cove, where the rock looks like it is sliding into the sea and the beach is made of rock pebbles. This cove is locally famous for being a great spot to whale watch and see the pilot whales that are everywhere around the cape. We definitely saw a pod hanging out in the bay, and I have to confess, I was so excited to see their bulbous heads that I may have hogged the binoculars. In my defence, no one was as excited as me.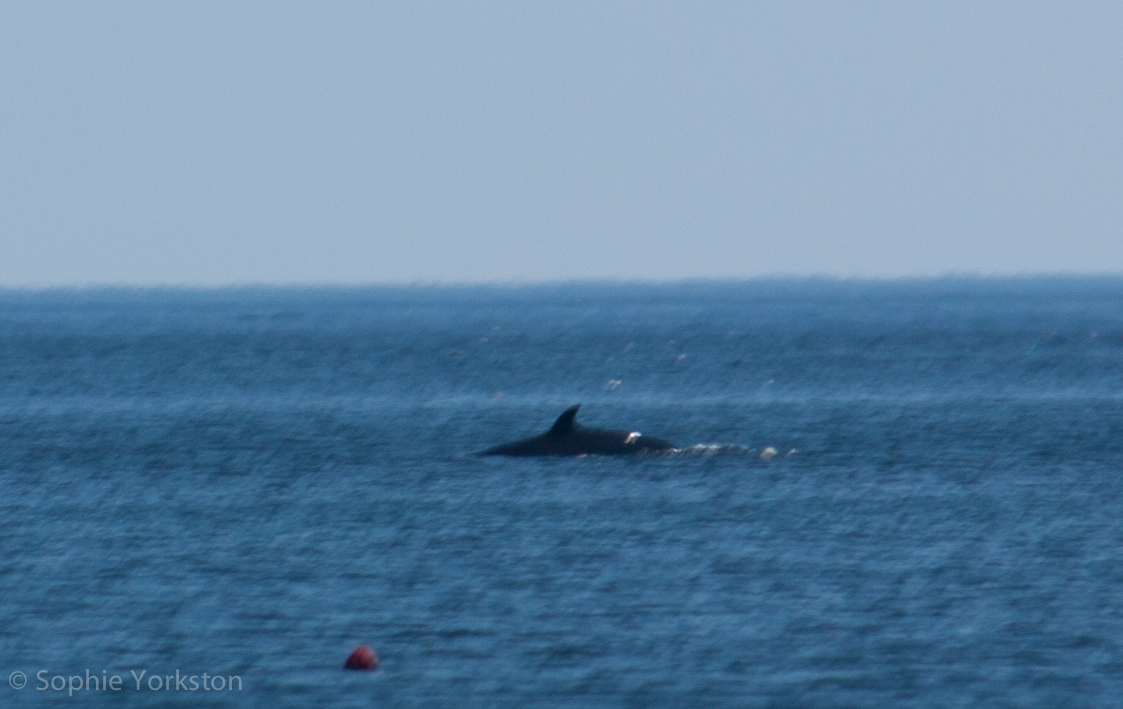 We left the lovely scenery of the Cabot Trail and Cape Breton and travelled northwest again, towards the Bay of Fundy.
To read about our journey, start from the beginning, or you can go on to the Bay of Fundy.