So what can I say about last month…
Greg and I got MARRIED!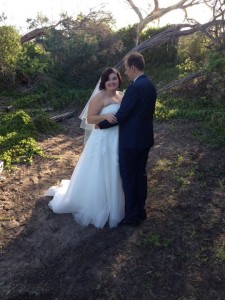 I know…I feel like a grown-up.
The stress of it had been driving me nuts. My bride-slaves Lauren, Alexis and Nirvana kept me (mostly) on track (they did their best) and sane. Greg put up with me and now he's stuck with me for life! Muahaha!
I put together the new Symbiosis Special Edition of SQ Mag within a week, due to a week of horrible illness. Despite this time pressure, I have to say, it's a great edition so go and read some awesome stories!
Luckily in that week that I was plague incarnate, I had my dear Cassie's recommendation of the new TV series of Outlander. Scots – tick; time travel – tick. I've also started reading the series as I wait for Season 2 episodes. I'm not coming out. Damn it Cassie and Diana Gabaldon!
I'm working on a few pieces of my own at the moment. There's been some work on my novel, a new science fiction short flash that's with some astute writer friends and an epic poem that has some stanzas completed. It was inspired by one I composed on Storybird.
On that note, there's some additional editing afoot. Many things to do! I'll leave you with the micropoetry from Storybird: