Vancouver and Ontario

My partner and I  stepped off the 16 hour flight from Sydney into Vancouver's nippy Spring. Typical West Coast weather for the first week: alternating drizzling rain and sunshine. Even though our hotel for the first week was on the party strip (we're not clubbing enthusiasts…) we really didn't notice. Granville Street is bustling and a bit dingy during the day (it boasts a host of homeless people in the doorsteps of closed clubs and pubs), but at night it really comes alive. I cannot fault the people in Vancouver though. One day while standing on a corner trying to figure out where the nearest VISA ATM might be, 2 people stopped in the space of 5 minutes to try to help us.

Vancouver itself is quite pretty; there's lots of green spaces and one tiny park down the road was our first exposure to this. Stanley Park in the north east, and its start of the seawall walk at Coal Harbour is picturesque. There's the stillness of the inlet of wharf, reflecting the dark green of the pines and the crisp outlines of white-capped mountains. The seawall along the waterways very much reminds me of the Tan (Botanical Gardens) in Melbourne; on a sunny day, it is covered in people getting their dose of vitamin D and fresh air. There's many cyclists, some who strap speakers to their bike to share their music with you. Looking north-west across Burrard Inlet to North Vancouver is quite scenic, even with the port and the sulphur piles glowing neon. I spent an age trying to get a decent photograph of a spotty Harbour Seal, but apparently they are shy and I had to be content with a distant head. We saw our first squirrels, the Black Squirrels (apparently introduced in 1914 Wikipedia tells me) and what I think may be Eastern Grey squirrels (they were much shyer). We walked right around (approximately 11 kilometers) to English Bay Beach, which has a beautiful outlook too. This is where we started to see piles of rocks in interesting shapes. I think this might be related to the Inukshuk, which as I understand were once landmarks and cairns for food stores used by the Inuits.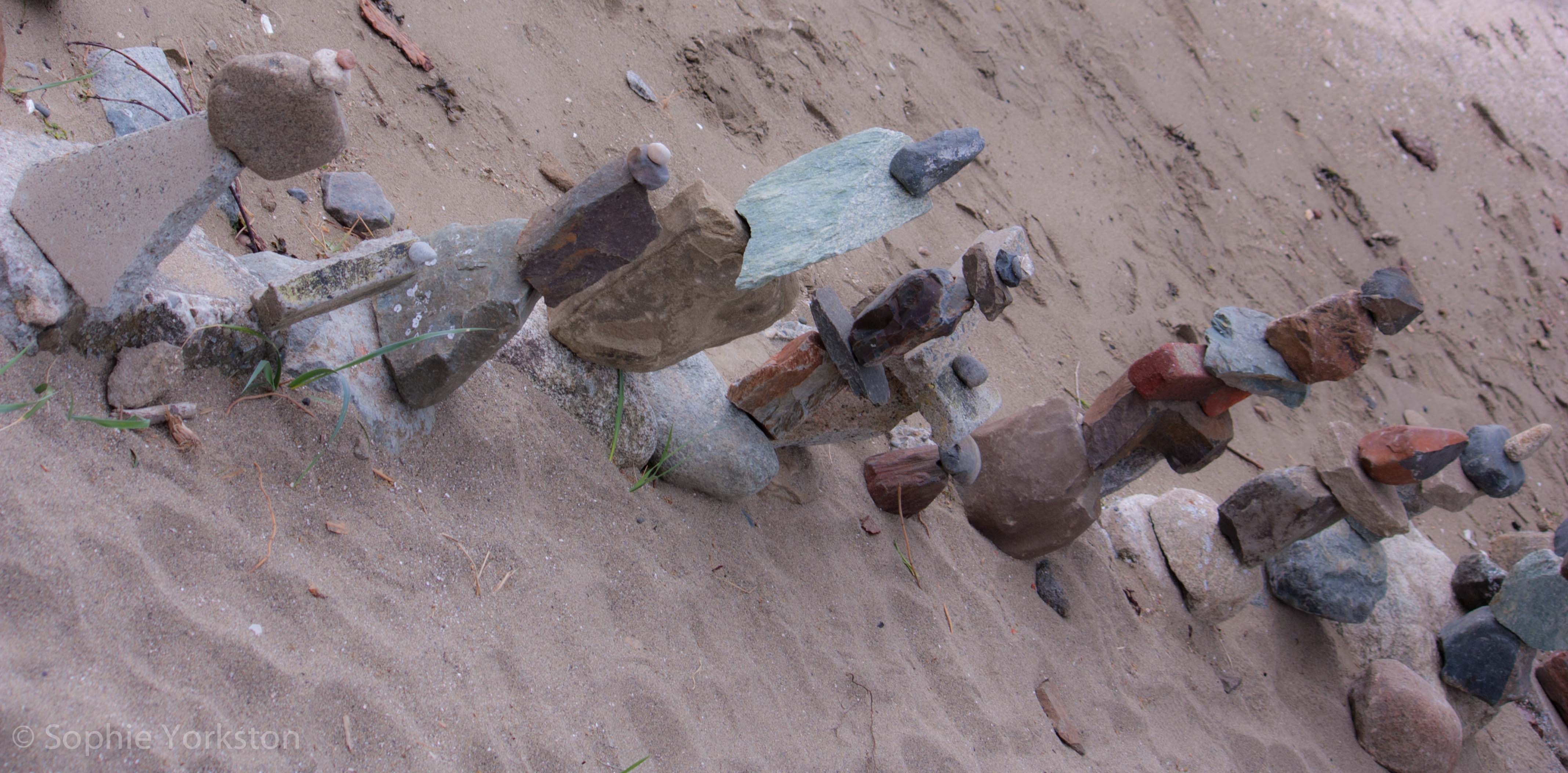 Granville Island was also a treat.  There's a cute little ferry across False Creek, which is almost a floating platform. There's markets with lovely fresh food, artists, a theatre, music and a great vibe. It once was an industrial area, I think, but is certainly affluent with the markets and a great university (Emily Carr, an arts school).
We've caught up with our Norfolk friends, who really have been invaluable for all the help they've given us. As well as being our local tour guides, taking us to funky artisan Kitsilano. Had the best vegetarian/vegan food of our life there.
We met my brother and his girlfriend in Toronto early in June. After the loveliness of Vancouver, I found Toronto a very impersonal city, all bright lights and glitz to distract from the general lack of upkeep. It rained constantly, so that might not have helped. I regret not getting a look at Toronto Island, but otherwise, was a bit underwhelmed.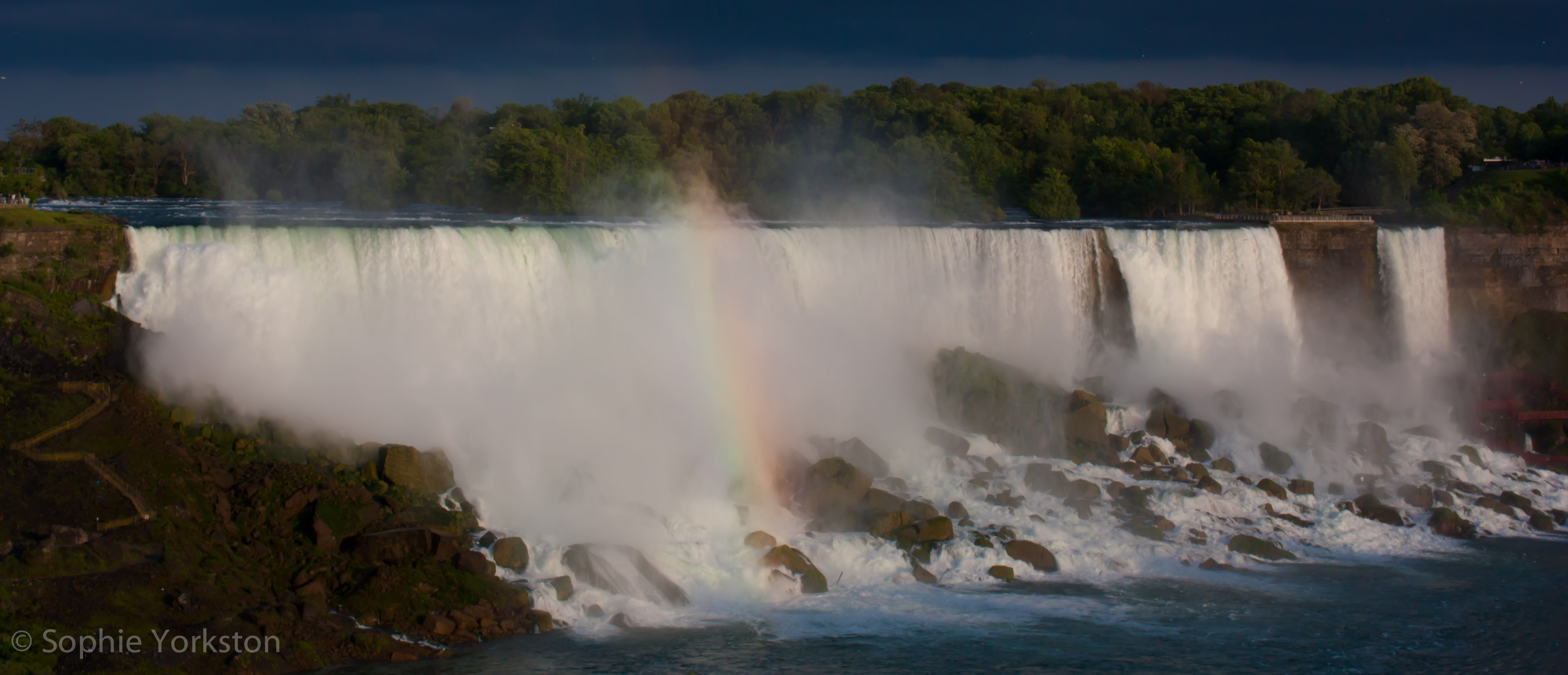 Niagara was our next destination. Everywhere outside of the immediate township was incredible. Phoebe, Duncan and I particularly liked the tidy, Victorian/Queen-Anne style homes of Niagara on the lake, a township on the northern end of Niagara River towards Lake Ontario. It was lush and green, pretty even in the rain. We wound down Niagara Parkway, looking at the powerful steely blue-grey river, and the many walkers and cyclists. If you are going to the falls, I would recommend staying here, and taking a bright morning/afternoon to explore the Niagara Botanic Gardens, flush with the bright blooms of spring. It eases the grating of the township of Niagara, which is cheap and despoiled by flashing fluorescent lights and empty entertainments. If you can keep your distance from this and actually make it down to the Falls, the 200 meters of parkland along the riverbank is mostly serene. You are sharing (particularly at this time of year) with many other tourists, but we didn't really get bothered, because the walk up to the falls is enchanting view after enchanting view. Some of the best photographs we took were from downriver.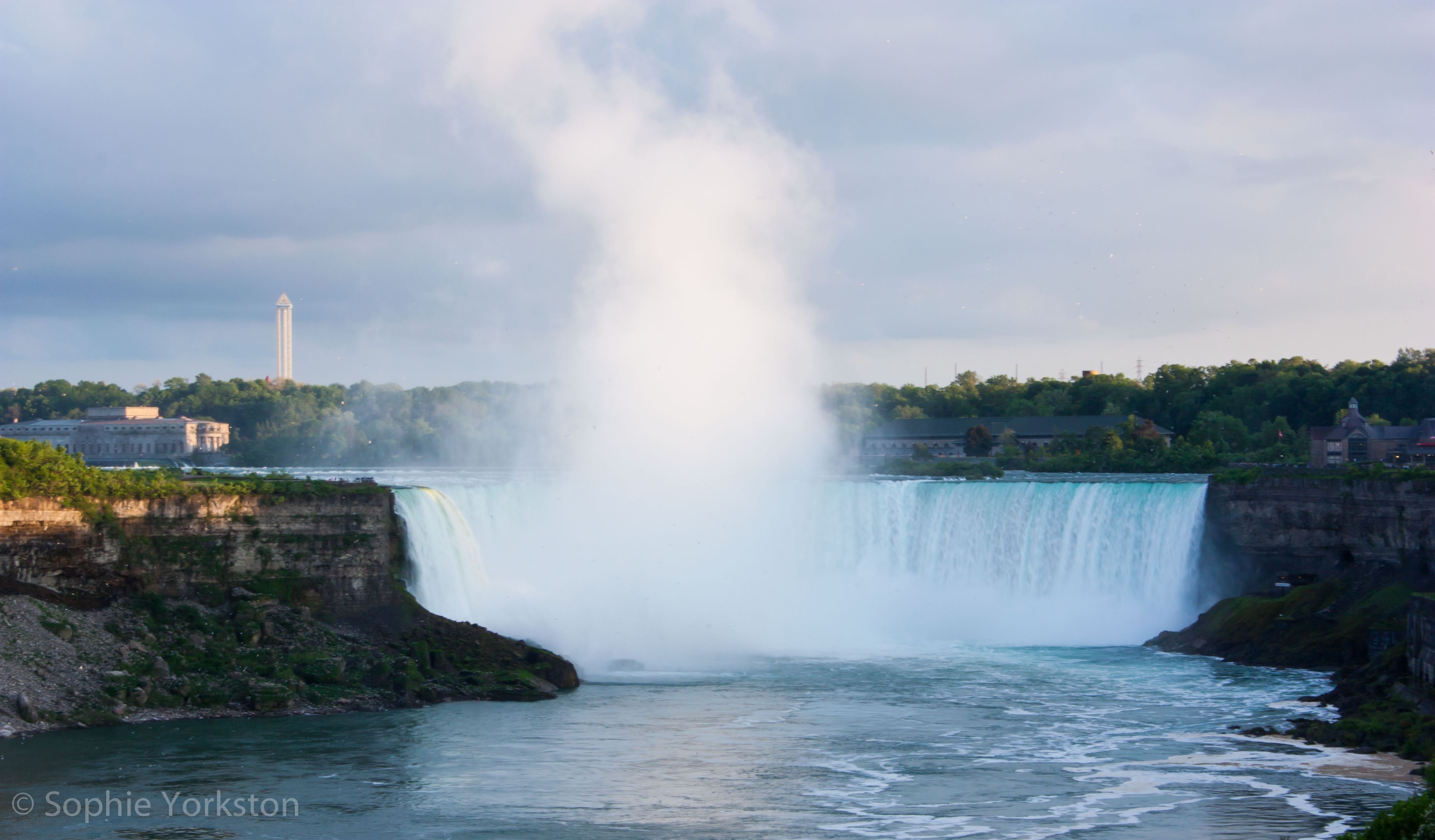 The Horseshoe Falls are, as you would expect with this very imaginative naming, semi-circular, and the water roars over them at a great pace, filling the air with fine mist and white noise. The water is a lustrous blue-green under the foam, and it is very photogenic. A little awe is required when you consider the amount of water that pours through every second from Lake Erie. A little spout of mist pops up from the central point of the falls, and all day and night the birds (perhaps just seagulls, but there may be others) swoop through the clouds of mist. You do find little bugs about a bit so I assume this is what they feed on. They all roost on a little area on the American side of the Falls; it's split right down the middle, and the Horseshoe Falls are the only ones that are part of Canada.
The American Falls are straight down, like a ruffled curtain. There is a small offset called the Bridal Veil Falls attached to them too. I like the likening to lace, even though they are not delicate in any way. I think the Canadian side is the best side to get a full view of all of the falls. If inclined, the Maid of the Mist is not a long journey crammed on a boat with many others, but you get reasonably close to the roaring waters and covered in the spray. Good fun. I think it was worth $20 each.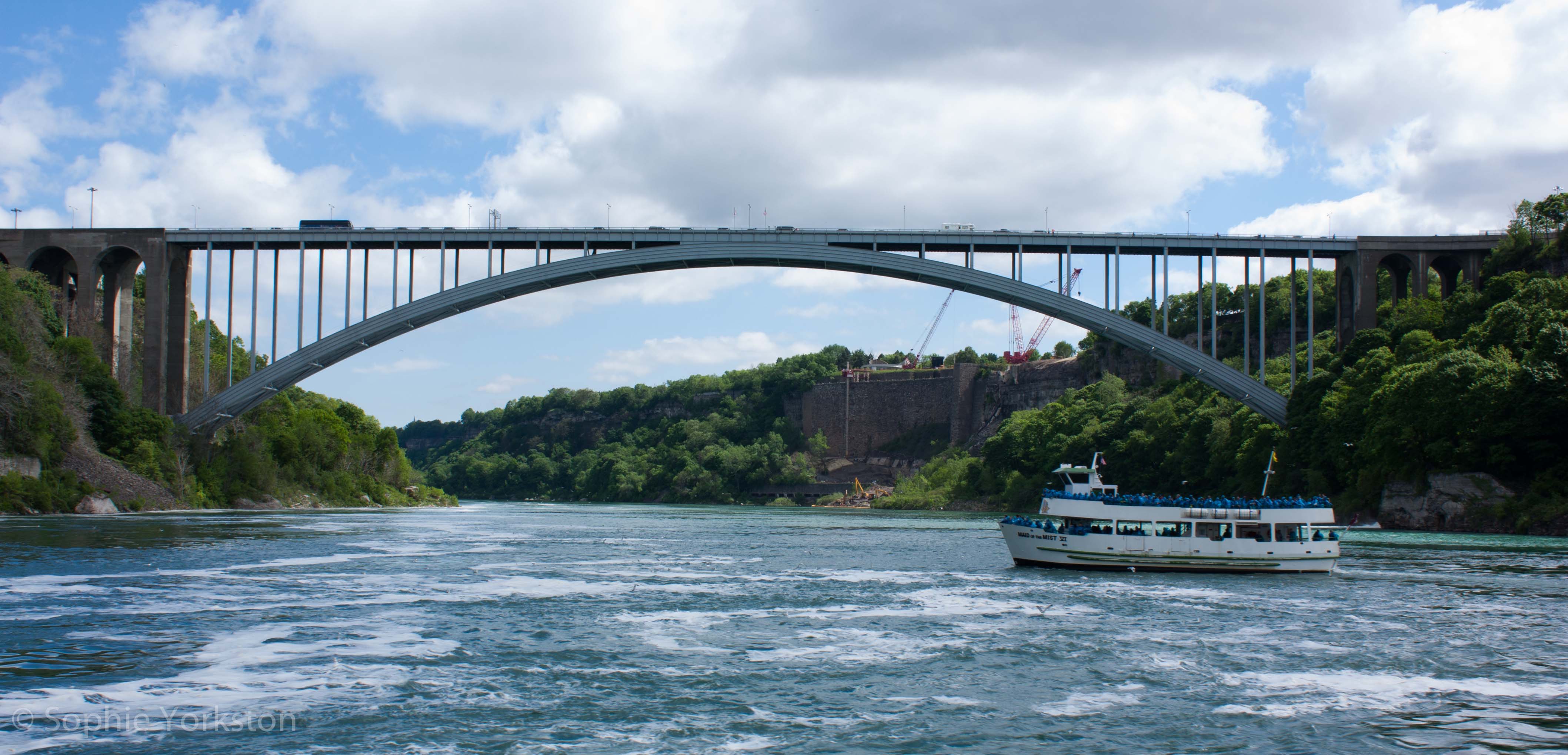 Back around Lake Ontario and on towards Ottawa, we stopped at a little place called Smiths Falls, which my brother had heard was the prettiest town in Canada. We stayed in a lovely renovated church, but the real highlight of the area was Perth. It had lovely old stone buildings, including an old mill that we had breakfast in, with a burbling stream flowing through and some nicely tended gardens, completed with two little arched bridges over the water. We enjoyed our morning there very much. On our trip towards Ottawa, we saw our first marmot. Saw it just munching away on some grass. It's the size of a little dog with puffy little cheeks that stands on its hind legs, and could be mistaken for a beaver by the over-excited and uninitiated!

Ottawa is the capital of Canada, and came into being much the same way Canberra did, being nominated as a spot to stop several cities being upset by being snubbed and indeed snubbing them all. When Queen Victoria chose it, many of the politicians thought it was the end of their lives, being forced into the backwaters of the country. Albeit, I have only seen it since it was reinvigorated by a French architect, but I have to say that it is stunning. It is what Canberra has never been. Lofty Gothic and Victorian architecture gives the official buildings resonance, softened by the deceptively serene waters of the Ottawa River (called Kitchissippi by the First Peoples, the Algoquin).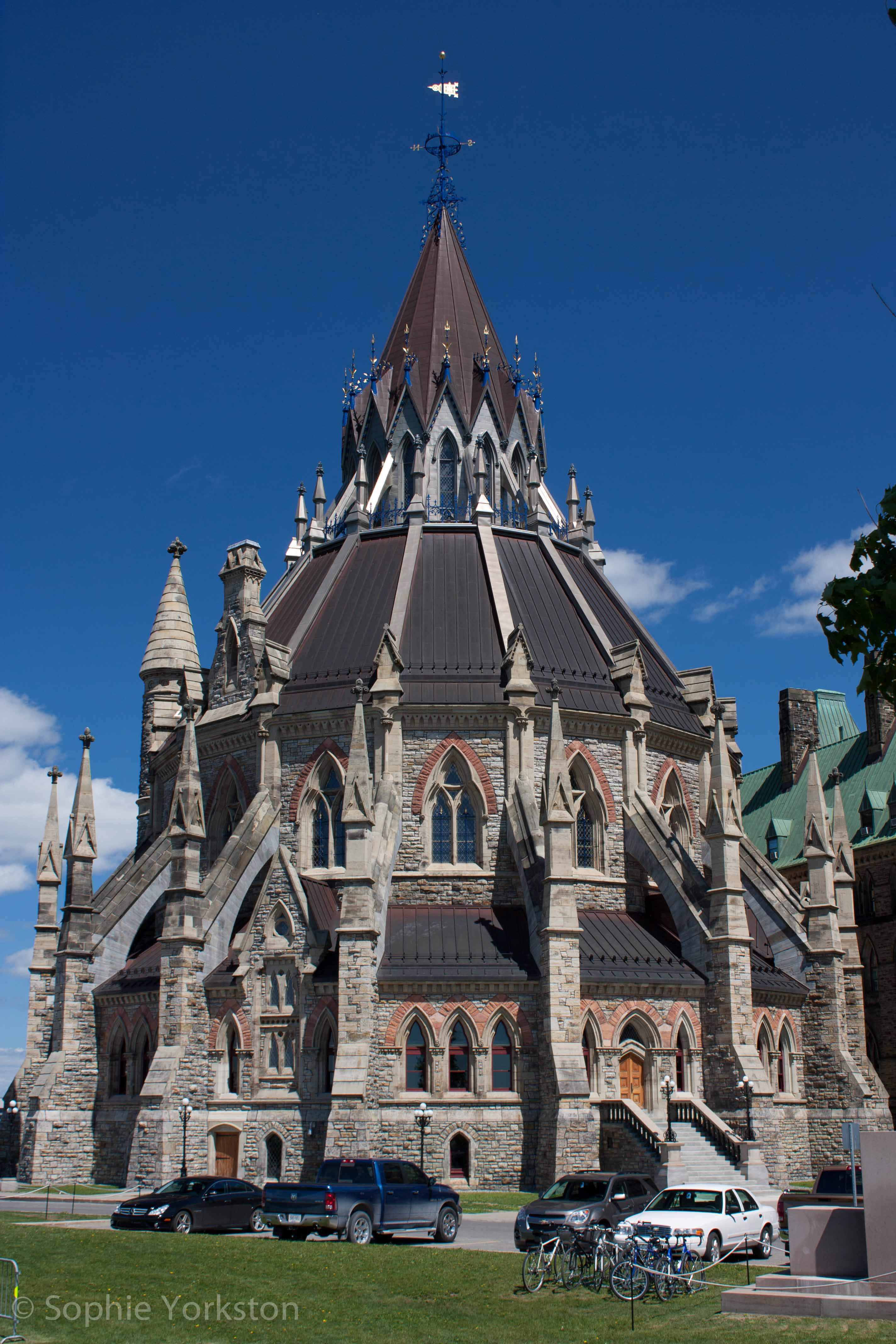 We were staying in the north of the city, over the Alexandra Bridge, near the Museum of Civilisations. Gorgeous little unit. We explored the city on foot the afternoon we arrived, taking many photographs. I even have a photograph with a Royal Canadian Mounted Police officer, though disappointingly not in the full regalia. He was extremely friendly, giving us information about Parliament House. People were quite friendly, and we really knew we were in the French-speaking parts of the world as we were greeted bilingually wherever we went.
The city was buzzing and vibrant. We enjoyed the Byward market, which wasn't nearly as good as those in Melbourne, but still interesting. They certainly have the art of pastry making there though – yum! We had a few drinks in a few different places. Unfortunately the bar Zaphod Beeblebrox was closed in the early week, so we could not go inside! Sunsets over the river were full of riotous colour and serenity. You can hire bikes numerous places in the city, a little like Melbourne, and it would be a great way to get around if you were game.
We went to the Museum of Civilisations. We got caught up in some smaller exhibitions of First Peoples (or Aboriginals as they call them here too), which were fascinating in their own right but not the main exhibit. The peoples cultures are so wide and varied that the hall dedicated to them is huge. You got to see the dresses, both older and contemporary, of the different Candian peoples. We didn't have enough time to spend there, but I really enjoyed the recordings and written lore of individual peoples. What I was sad we didn't get much time in was the top floor's chronological depiction of the forces that shaped Canada. It went through the different groups that have laid claim on the country in some way or another, in full, life-sized wonder. We're talking houses and workshops and pretend docks and saw mills. The ingenuity that went into creating it is a marvel. I do wish we had more time in this museum, and to see some others there too, which are highly recommended in travel guides. I could have spent a few more days here, but on to Montréal we went.
This is part of a series on travel in Canada. You can find the next instalment here.