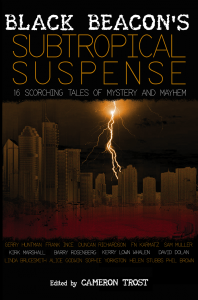 When this anthology was in production, I had a short chance to read some of the stories as part of the collective proofing process. Unfortunately, it didn't give me much time to really enjoy them so I decided I would come back to look at them when I had more time to appreciate the hard work and craft that went into each one.
What I love about the concept of this collection is that it represents Australians and in particular Queenslanders. Queensland is well worth the attention. It's a state of contrasts: arid outback, lush and steamy rainforest, tropical beaches and mangroves. Its people are a friendly and talkative lot, who, overall, take life a lot less seriously. There's a bit of tongue-in-cheek rebellion against the older, staider states. My home state needed representation in fiction.
Enter Cameron Trost: author, editor and head of Black Beacon Books, a Brisbane-based publisher. Wanting to see his home state immortalised, he started calling out for submissions of suspense stories set in Brisbane or surrounds. What resulted was a collection of fine works with the flavour of Queensland.
Brisbane surrounds, the glitzy Gold Coast and the suburbs are all represented here. The flavours of a Queensland upbringing are definitely present in the sweltering humidity and the summer storms, the hiding from the sun and heat. Tales largely told for old-fashioned suspense and intrigue, a few of these tales have a supernatural bent.
Several stood out for me, in no particular order. FN Karmatz's Magnetic North with the indigenous police officer on the train of a perpetrator of a violent crime (though the science missed the mark for me). Missing by Kerry Whalen taps authentically into the fear of every parent: the disappearance of children. Like Me, The River from Duncan Richardson follows a young homeless boy's journey.
My favourites were from Linda Brucesmith, The Final Cut, which captured a side of Queensland that is still a sadness for me, and Helen Stubb's tale of young infatuation and the iceskating rink, which evoked the intensity of being a teenager in summery Queensland.
There were a couple of stories that needed some cutting in my opinion, or a perhaps a bit of refining, but all of them definitely captured the feel or location, so their selection for the anthology made sense.
Overall, this is a fine collection and it was wonderful to see some emerging and established Queensland names in this anthology. Each author's story was unique and this anthology did what it set out to accomplish: represent a great and unique state so that we might see more narrative that includes it. An aim that I wholeheartedly support, and was glad to be a part of.