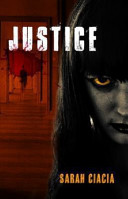 A few words before I begin my review: Sarah and I have connected over the internet, due to a wonderful mutual friend who put us together due to our mutual interests (love of writing and dogs, the city of Melbourne…). However, I bought this book, so I have no other obligations to this review. And it's very tardy. Sorry Sarah. 
Justice begins the story of a victim; Justice is beaten by her father, demoralised at school, plagued by suicidal ideation. However, this isn't to be Justice's lot, as she fights back and kills her father. It provides her with freedom and a new lease on life, although she keeps looking back at the high price of her liberty.
For once, Justice is able to be the young woman she was held back from: one with her own style, and not so crippled by her self-doubt and depreciation. The people around her begin to notice.
Justice is a dark fiction novel for the young adult market. There's some graphic scenes, and this book comes with a trigger warning for rape and murder. It has good flow and readability for a short novel.
Although some previous reviewers found her relatable, Justice so brimmed with bitterness, or alternately, bleak detachment–in a justifiable way, given her experience of life–that I found it hard to relate to her. She's nuanced and flawed, with moments where you see the pure teenage girl in her; while it's great for the realism, it's not always great for being able to relate.
That being said, the despair of being a teenage outcast is very accurately portrayed in this book, so there's much to relate to for teens negotiating the tumultuous time that is adolescence. And Justice certainly gets herself into troublesome situations like only a teenager can.
While I know there is a sequel in the works, for me the book would have been better served by telling the whole story within this novel. Not to spoil it for anyone interested, but the end leaves a lot of threads hanging. Like all the other readers, I will have to wait until the sequel is done to have the answers I so often prefer.
Justice is a strong first novel from Sarah Ciacia, which leaves you wanting to find out what happens to Justice. I'd recommend this novel for mature young adults and older who enjoy the grimmer side of literature. If you're interested in the novel, you can find purchasing options here.