Hoffman's Creeper and other disturbing tales is a collection of short horror stories from writer and editor/head of Black Beacon Books, Cameron Trost.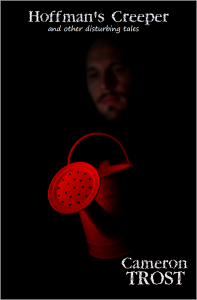 Trost's picks for this collection cover a gamut of locations and horror subgenres. Some of the settings leap out in recognition for the familiar. There's a very human element in many of these stories, which makes for strong fiction, especially when suspecting there might be an element of Trost exploring some of his own fears through his writing.
Hoffman's Creeper, the title story for this collection was a delightfully dark picture of a man who preferred plants to people, including a creeper from the Australian bush, stolen from our First Peoples. Kangaroo Point is the internalised horrific imaginings of any good Samaritan.
Trost has left many of these stories open-ended. Some certainly felt like they could have been explored further to become truly terrifying. It may be that this was a lot of what he was writing previously, and outside my personal preference. That doesn't mean that this isn't a thrilling collection of stories to read, however.
The strength of Trost's writing is in dialogue you can almost hear, and settings you can smell, see and feel. There's variety in the types of horror on display, and more of the slow creeping tingle of fear up your neck.
Reading these stories, I feel that Trost's work has evolved since he wrote them. Like any writer worth their salt, his work gets better and better.
Hoffman's Creeper and other disturbing tales is perfect for bite-sized fiction sittings–I read mine on my train journey to work–and if you liked these stories, Cameron Trost has many more thrills to offer you.
You can find purchasing details of Hoffman's Creeper and other disturbing tales at his blog.
Disclaimer: Cameron Trost and I have published each other's stories. I appear in Black Beacon Books' Subtropical Suspense with my story Downpour, and he in SQ Mag with The Church of Asag.  Read The Church of Asag here. However, I sought a copy of this for myself and my review has been in no way compelled.